ART & CRAFT WORKSHOPS IN LARNACA
.
At Artiflair, we believe that everyone has an inner artist just waiting to be unleashed! Come and let your creativity flow as you create your very own masterpiece with our step-by-step instructions. Whether you come alone, with friends, or make new friends at our studio, you're guaranteed a day filled with fun and inspiration. No previous artistic experience or skills are required - we provide all the materials and guide you every step of the way, so you can relax, enjoy, and have a great time. Meet new people, learn something new, and take home a beautiful piece of art that you can be proud of at the end of our workshop.
Creativity is in our blood, and we pour it into our art and design. We focus on the essential, creating pure and minimalist masterpieces. When you step into our studio, you'll feel the calm wash over you, allowing you to slow down and find peace. We're here to guide you on this journey.
ARTIFLAIR is more than just a place to create. It's a community of like-minded individuals who share a passion for design and a minimalist lifestyle. Inspiration is all around us, waiting to be discovered. Join us and let's create something beautiful together.
SVEN & SEILA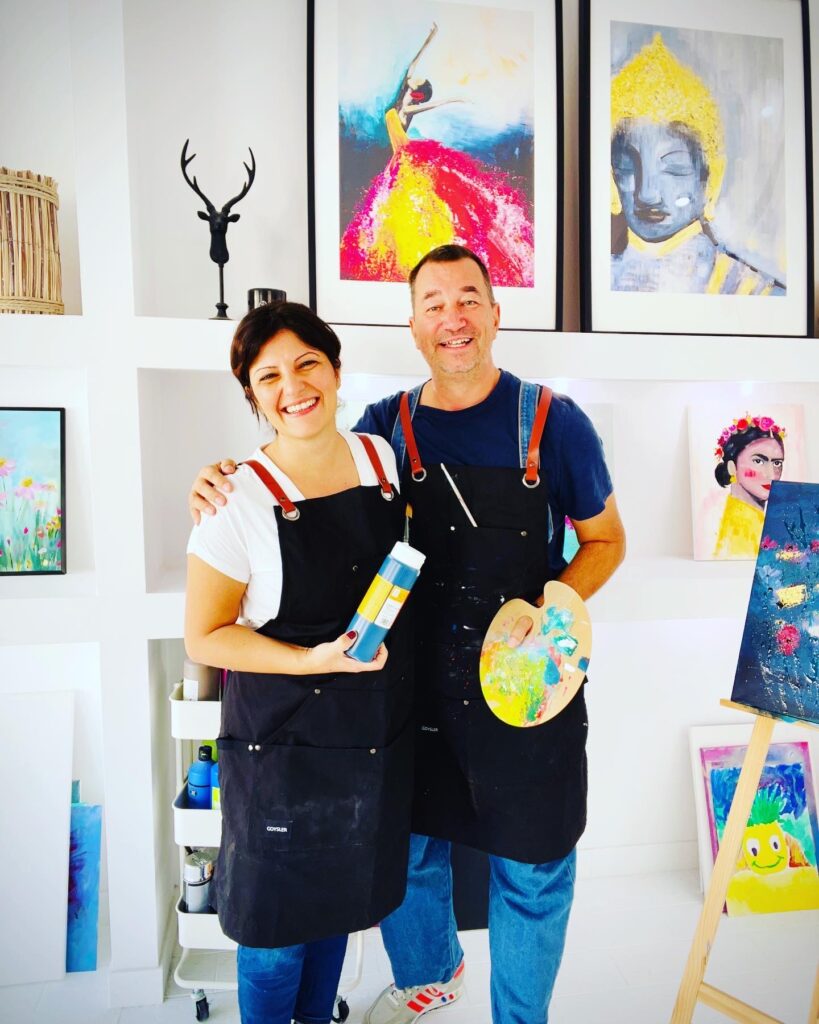 We are very fortunate to share our passion with others. Thank you to everyone we have been allowed to accompany on their way. Gamze & Sven
I just loved the combination of getting to know other great people, painting together, having some snacks and tea in a wonderful surrounding. Gamze, one of the owners, assisted in any way possible and made that event an unforgettable experience. Will definitely come back
Sven has a profound knowledge of digital marketing processes, branding and positioning. He is always clear, focused and results-oriented throughout the implementation process. At the same time, you can always feel his passion as a full-blooded entrepreneur and serial entrepreneur. Anyone who works with Sven will get their company and products where they want to go.
Thank you very much for this lovely evening. I loved the atmosphere of the group, what was created by Gamze, our guide. I could feel her love and passion for art and painting and she made it easy for us to make the courages step into colours on canvas. I felt very supported with her help. I loved it. And how great to surrender to the flow, the art of focus with such a great outcome. I love my painting. Thank you very much! For us it won't be our last event with ArtFlair and we looking forward to the next one.
Sven really has the gift of explaining complicated relationships in a very simple way. All with a lot of patience and humor! It is extremely fun to learn from you. thank you very much.
The photo shoot with the two was something very special for me. So much passion for what they do here - unique. Mega what Gamze conjured up in me and Sven portrayed me. Finally I have photos that show "me". Thanks guys, I'll never go anywhere else 😉